Diogenes was born in Sinope (modern-day Sinop, Turkey), an Ionian colony on the Black Sea in 412 or 404 BCE. He is the proud founder of Cynic Philosophy and believer of cosmopolitan values and attributes. However, he was known as a controversial person who publicly mocked Alexander, embarrassed Plato, disputed his interpretation of Socrates and sabotaged his lectures.
The son of Hicesias, a banker he had to face the punishment of banishment for adulteration the currencies of the country. He was falsely embroiled in the currency scam.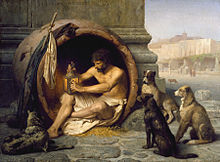 He had minimal requirements for a living. He lived in a tub in between the marketplace, begging for a living, moving with a lamp to search an honest person in the market. He was known for these types of philosophical stunts which received criticism and humor.
He was attracted by the ascetic teaching of Antisthenes, a student of Socrates, who had been present at his death. Antisthenes had no liking for Diogenes but the pupil wouldn't leave him and continued to believe his every word or preaching. Diogenes had high praise for the values of dog and appreciated the fact that they could instinctively differentiate who is a friend and who is a foe. They recognize their friends and receive them kindly, while those unfitted are driven away by barking.
The personality of Diogenes has appealed to great artists, painters, sculptors, writers. But many of them are enchanted by the reminiscences of the famous encounter of Diogenes with Alexander the Great. The meeting of the great philosopher Diogenes and Great King Alexander is represented in an ancient marble sculptural found in the Villa Albani.
The episode as scripted by Plutarch.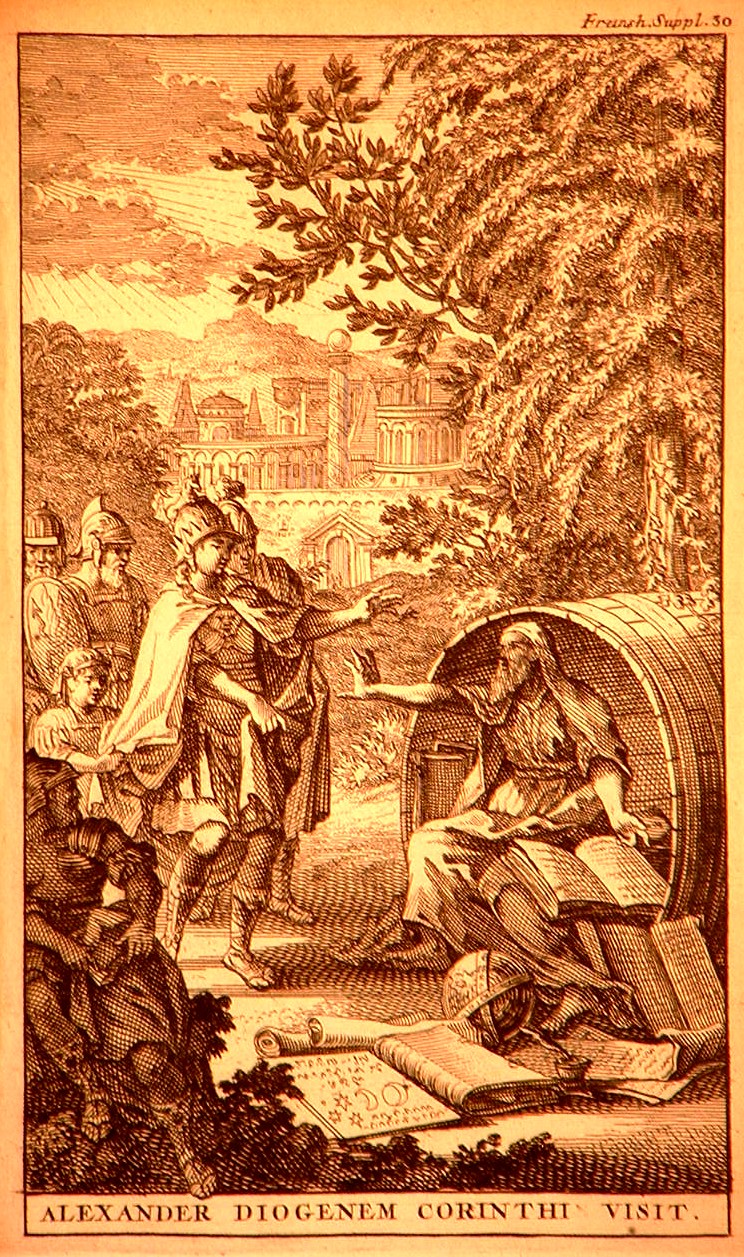 Alexander the Great came to visit Diogenes. Many statesmen and philosophers also joined in to visit Alexander with their congratulations, souvenirs, offerings.
The Great Conqueror expected that Diogenes also who was living in Corinth, would also do likewise and be excited to show up for the meeting. Alexander wanted to fulfill a wish for Diogenes and approached him in person near the tub where he lived.
When Alexander arrived, he found Diogenes lying in the sun. A mob of statesmen, soldiers, and royal commanders approached Diogenes. He raised himself up and looked at the royal procession headed by Alexander. Diogenes fixed his glance upon the distinguished looking Alexander starring in his one blue and one black eye. The monarch greeted him with awesome respect and asked if he wanted any special royal favor to be granted, "Yes," said the eminent philosopher Diogenes to the Alexander, "Stand a little out of my sun."
So struck was Alexander by this reply that he moved out in silence. The emperor admired the sincere hauteur and opulence of the poor man who had nothing but disdain for him and his royal treasures. While walking down with his followers, who were laughing and joking about the philosopher's reply, Alexander in a profound, proud tone answered to them,
"But truly, if I were not Alexander, I would be Diogenes."