"If you want your children to be intelligent, read them fairytales. If you want them to be more intelligent, read them more fairytales."
- Albert Einstein
From ancient times, in every culture, Fairy tales have a powerful fascination that has beguiled everyone from kids to story-tellers. Magical, thought-provoking tales from timeless ages have given deeper meaning to society. These stories have also expanded our world to invisible characters like fairies, elves, dragons, giants, making us believe that loving everyone is the only solution to get rid of bad things.
Albert Einstein, Father of Modern Physics, quoted;
"When I examine myself and my methods of thought, I come to the conclusion that the gift of fantasy has meant more to me than any talent for abstract, positive thinking."
Fairy tales have an ancient origin, been carried on from one generation to another with enthusiasm, love, and interest. Fairy tales have delighted all of us in our bed-time stories hearing them from grandmothers and mothers. While listening to these legendary fairy tales of sprites, elves, enchanted towers, witches, princesses, social human beasts we feel like we are pacing inside the walls of a paranormal world far away from our reality. By reading fairy tales or folktales to our children we not only building in them a foundation of faith but also remodeling their thinking capabilities. These stories play a pivotal role in the personality, social, and emotional development of children and even adults.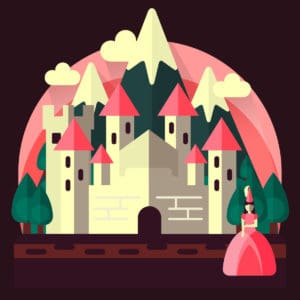 Fairy tales have gone far beyond the point of amusement; they indoctrinate in us qualities of endurance and positivity. In our early childhood, fairy tales teach us to distinguish between good and evil, wicked and generous, giving us a deep understanding of moral values.
Fairy Tales like Cinderella, Rapunzel, Snow-white teach us to have faith in ourselves, accept life's circumstances, live with the assurance of the unknown tomorrow. These fairy tales encourage us to envisage our imaginary roles without any fear or the need for perfection. We are not required to be always perfect but we can keep trying to achieve perfection. The characters of elves, dwarfs, goblins, friendly animals instill in us the modesty to treat every living being with respect and worth. The role of these characters influences us to consider the contribution of every small creature and accept their significance courteously.
The essence of the fairy tales lies in joyful living, amazing thoughts, melodious music, good friends, and happy endings. Hundreds of legendary tales drawn from mythological, historical, fantasy inferences serve as a guidepost for us in the path of life.
The cosmos of fairytales stretches our imagination to the world without conflicts, feuds, violence where all live happily forever. We begin to explore our possibilities thinking beyond the achieved limitations and re-imagine the non-existing.
A fundamental part of our society for ages, fairy tales scribe a high level of psychological maturity by exploring the motivation and beliefs of curious minds and determined hearts.
The emotional and traditional values conferred by fairy tales on the young minds give them exposure to a better sense of living and meaningful purpose in life.
The knowledge gained from fairy tales has evolved the perception of an enchanted world in our whimsy thoughts and enthralling hearts that even today after years we secretly in our heart looking for a fairy to share our burden believing that,
"Yes, Indeed, It's an enchanted world"