'He is a farmer, who sows his seed in bosom of earth to give me birth,
I grow with other crops as siblings in the fields joyfully creating memories of childhood.
As I grow up, I recognize the sun that has nourished me
to grow into a beautiful feminine tree.'
Celebrating such cherished women's day makes us valued and even spiritual, additionally, feeling full of thanks to those men who in the role of fathers, brothers, husbands, sons, friends, and even office colleagues have continued to enrich our lives and enlarge our horizon. Indeed, without their support, women cannot be born or blossom all alone, same applicable even to men.
Still one looks, in awe, around his/ her environment trying to link answers to numerous questions on gender bias, equality, discrimination as these issues still exist in the depth of society. Religious texts emphasize eternity by living harmoniously with each other successfully making life better for future generations. We, women, became such strong tree of powerful beauty, endurance, and persistence by living in such challenging conditions only with our tools of feminine traits like willpower, affection, mental strength, emotional intelligence, etc. We grow, firmly rooted to our ground, yet touching the sky, looking indeed, to fulfill the eternal meanings of care and love.
Fathers are those farmers who really could sow their seeds in our mother's fertile bosom, such as the Earth, to give us birth as his sapling, his handsome features inherited in our female genes, his blood as identity in our veins.
Within our childhood, we had lovely companions, such as brothers and cousins who not only entertained our childhood days but also discovered colors and culture. We recognize that our life is full of challenges with the dynamic life pressure and race, yet we are also in need of trust and support from them in order to go ahead.
Being adults, we can easily and strangely understand that men like the sun, significantly nourish us, in order to grow. We grow as lovely bearers of feminism, while at the same time moving forward to bear the responsibility of caring for homes, husbands, and children. We actually are good and reliable contributors for our universe to grow in abundance.
On this and yet-to-come many beautiful Women's days, we have to thank men, for their grateful support in bringing out the core essence of our life. We thank our fathers who provided us with life, care, protection, and warmth in cooperation with our Mothers. Brothers offered to us as beautiful guardian angels and trusted companion in any difficult situation of life. Husbands for enriching our life to the fullest extent, and finally, our sons representing pure love and fertility's emblem.
We cannot be complete, without men, without fathers, brothers, husbands, and sons, too. We are in the atmosphere of nature, where each of us knows well his/ her incredible role. Men cannot as well sustain, apart from the existence of nature, since he is significantly a key partner in the dynamism and activity of nature.
I do not want to urge women theories or so, as some researchers are usually doing, saying that Feminist Theory is mainly built on emphasizing the lives of females that are victimized in a world ruled by brutal, dominant men, etc. I see that apart from such culture, women and men are the product of each other and should live happily side by side. Therefore, I think, this day of women, we should extend to even include men, as well.
Our men - fathers, sons, brothers, husbands, friends, and colleagues thank you and stay blessed.
In conclusion, w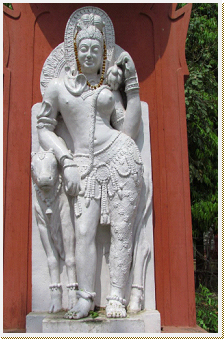 e inspired this thought from our legendary Hindu Deity – Ardhanarishvara, which is known as a specific composite androgynous, form of Shiva, and his consort Parvati. Ardhanarishvara is depicted as a mixture of manhood and womanhood embodying significant each other. Ardhanarishvara is a combination of masculine and feminism, whereas one can figure out the existence of a shape of half male and half female. This is split down the clear middle. Looking at the right side, it is male Shiva demonstrating his strength and power and at the left side, it is Goddess Parvati filled with vibrant manifestation, devotion, and subtleness.
Symbolism is noticed in Ardhanarishvara deity, focusing on strict principles of both yin and yang that cannot be separable, deeply integrated into each other to resolve opposites, and harmoniously thrive.
Our call is loud in the open universe, asking them to make me a woman!
Happy Women's Day To All!